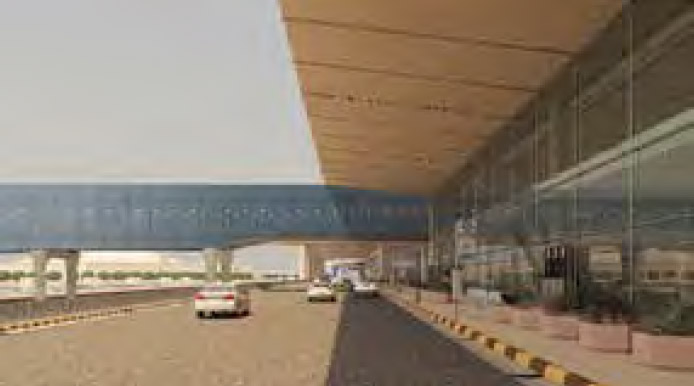 Client: The Royal Commission of Riyadh City |
Consultant: RAMPED | Contractor: FAST Consortium
Status: Under Execution | Contract Value:SR 46 Million
Description | The Riyadh Metro is a rapid transit system in the city of Riyadh, the capital of Saudi Arabia. It consists of six metro lines spanning a total length of 176 kilometers, with 85 stations and its cost is around 22.5$ billion. Two of the most important stations are those located in the Airport (4G2 and 4G3) and which are linked through two skywalks (bridges). The consortium entrusted Madarioun as the selected façade contractor to execute these unique stations at a very critical timing of the project duration and after several inspections and thorough review of our capabilities.
Madarioun's scope included the following:
• Double skin façades comprising curtain wall, catwalk and external shading system • Platform level curtain wall and skylight • Aluminum composite Cladding system • Architectural aluminum louvered façades • Structural glazed façades.
STATIONS AND CONNECTION BUILDING FAÇADES
•Being a new façade contractor for a project started since several years with many stations completed or under construction put us in a challenging situation to prove our different and professional approach which convinced the client to change the used details for the double skin façades in the previous stations to approve ours as superseding details and which passed the ultimate weather, movement and thermal tests requirements from the first trial. The cover capped curtain walls is holding the specially designed laser cut steel fins, the catwalk, and the supports of the external skin shading. While the second skin is composed of vertical plates runners and the side frames to hold the special oval-shaped blades.
SKYWALK FAÇADES
• The extra-lengthy bridge having its two sides enclosed by structural glazed curtain wall façades with jumbo sized glazing has inclination to form hundreds of different sizes trapezoidal shaped glazing panels. The connection with the existing airport building was also a challenging task.
The bottom of the skywalk has cladding system forming the soffit where its installation is extreme during the full operation of the airport and required a special developed method statement for erection.
PLATFORM LEVEL FAÇADES
• The coordination with several contractors to have the system accommodate the synchronized train cabinet doors fully aligned with the façade doors made the precise dimensions to be respected with minimum tolerances along the different execution stages from the shop drawings stage to the fabrication and installation.
The inclined skylight above the curtain wall had jumbo size heavy glass and its fixation system was coordinated with the surrounding materials to maximize the weather tightness.
Executed by Madarioun KSA.